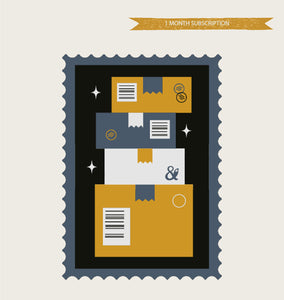 Adult Lit & Tunes 1 month (subscription)

PLEASE MAKE SURE YOU READ THE MAIN SUBSCRIPTION PAGE TO UNDERSTAND OUR SUBSCRIPTION SCHEDULE AS WELL AS ANY OTHER IMPORTANT FAQ.
SHIP DATES: October 30th through November 12th.
Monthly collectable: If We Were Villains inspired bookish charm designed by Blissfully Bookish Tees
SPECIAL FEATURES:
This month's Fox & Wit adult subscription book has an exclusive dust jacket designed by Christin Engelberth (@c.e.illo)
ABOUT THE BOOK:
Octobers's adult book a Reylo inspired East Asian fantasy that is a delicious slow burn, enemies--quite literally-- to lovers filled with lush world building and political intrigue.
Two enemies whose people are at war must form an uneasy alliance because their combined magic is all that will save a much greater force and threat from consuming their world. But can they put aside old wounds and battle scars or will their light and dark magic tear each other apart?
PLEASE NOTE ABOUT ORDERING MULTIPLE BOXES AND ITEMS: If you order more than one box or item, everything will ship together with the latest item shipping out. Shipment is calculated as combined shipping into a single package. If you prefer items to ship as soon as available, then please purchase separately. Otherwise, items go out with the latest dated shipment