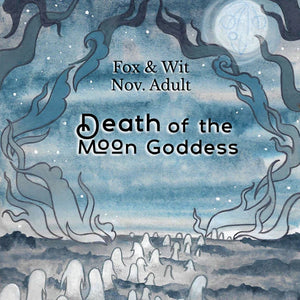 Adult Lit & Tunes November Single Purchase
SHIP DATES: estimated November 16th through 22nd.
Monthly collectable: quarterly dagger and floral pin designed by @c.e.illo (Christin Engelberth)
SPECIAL FEATURES:
This month's Fox & Wit adult subscription book has an
exclusive dust jacket
designed by Pauliina Hannuniemi (@Pauhami) and
character artwork end pages.
ABOUT THE BOOK:
When Phoebe, goddess of the moon, is killed by the knights of the sun god, Hyperion, all who follow her are branded heretics. With Phoebe gone, the souls of the dead are no longer ferried to the underworld, and instead linger on as shades who feast on the blood of the living.

Raef is a child of the night. He lives in the shadows, on scraps, eking out a meager existence as a thief. But when an ornate box is sequestered in the Temple of Hyperion, the chance of a big score proves too great to resist. What he finds within propels him on an odyssey across the sea and back again, altering the course of his life forever.
Seth is a knight of the sun. But unlike the others of his order, the fire of Hyperion only brings him pain. He believes he deserves this penance, exacted for his unknown origins. Tasked with recovering the contents of the box, Seth must also venture beyond the horizon if he's to learn the truth about himself.

In a dying world divided by the greed of those in power, Raef and Seth find their destinies intertwined—and learn they might have more in common than they ever imagined.
PLEASE NOTE ABOUT ORDERING MULTIPLE BOXES AND ITEMS: If you order more than one box or item, everything will ship together with the latest item shipping out. Shipment is calculated as combined shipping into a single package. If you prefer items to ship as soon as available, then please purchase separately. Otherwise, items go out with the latest dated shipment